Looking to increase book sales?
Tired of computerized robots wasting your time and money?
A Proven, email-based promotion strategy, in concert with a personalized promotion program—this hot combo is the most effective way to increase your book sales.
Based on your goals, we design campaigns to increase your online book sales and enhance your branding. We promote you, your brand, and your work, giving you more time to do what you do best, CREATE!
We'll handle your marketing behind the scenes, as your invisible (but sweet) assistants. Your friends (and competitors) will wonder where you find the time.
Allow us to help you with your book sales using one or more of our Marketing Services.
If you're new to 2 Blondes, our Starter Marketing Package could be right for you.
"Cynthia and Julie are amazing at what they do!"
– Wendy
Starter Marketing Package:
Book sales campaigns
1. Targeted emails to your newsletter readers over the term of your offer – based on a limited-time free or discounted book offer.
2. BookBub or Facebook ads over the term of the offer to maximize conversions to book sales.
3. Actively monitor campaign results including click-through and conversion rates.
4. Using our 2 Blondes (non-digital) magic touch, fine tune campaigns for more performance.
5. Reader Engagement – Branding with engaging author content in a monthly email (the new blog.)
Okay, let's talk pricing.
Prices for our Starter Marketing Package are $479 for the initial setup, and $179 monthly. Prices do not include the cost of your MailChimp account, or any ad spend.
You'll want a minimum of 1,000 email subscribers, plus: a PayPal account, a MailChimp account, Facebook page, a Facebook ad manager account, and a BookBub Partners account.
Don't yet have 1,000 subscribers?
No worries, we can help
Concerned about costs spiraling out of control? Don't be.
You call the shots with predetermined spending limits, and your approval is required for all spending limit changes.
We are sincere. We want your business. To prove it, we will waive the $479 setup fee, this once.
Yes, we are offering you a $479 setup service, FREE.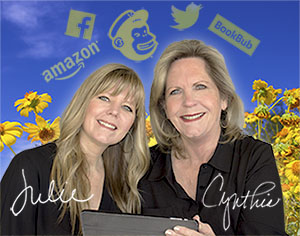 Starter Marketing Package
$179.00 / month
That's right. To get started, we are offering a FREE setup service AND a FREE consultation session. Subject to review of your info, we'll set an appointment to get together for a free consultation session by phone.
Your contact info and initial payment will get the ball rolling.
We'll handle your request as a top priority.
$179.00 / monthAdd to cart
A couple caveats. In other words, the fine print: If, based on our review of the info you submit, we determine, in our sole discretion, we're not a good fit, we may rescind our free consultation offer. And In the event of such, we may choose to notify you by email. Regardless, we'll offer suggestions for alternatives.
Be assured we will NEVER commit to a new client relationship unless we believe we can help.