Expand your reader audience with our personalized services.
Our emphasis is on you. Personalized marketing services are how we do it.
Based on your goals, we design campaigns to expand your reader audience and enhance your branding. We promote you, your brand, and your work, giving you more time to do what you do best, CREATE!
We'll handle your marketing behind the scenes, as your invisible (but sweet) assistants. Your friends (and competitors) will wonder where you find the time.
Our Starter Audience-Builder Package includes:
1. Specialized ads strategically placed with tempting offers to attract new subscribers.
2. A custom-tailored landing page with an enticing offer for new subscribers.
3. A MailChimp automatic workflow email system designed to keep your new subscribers engaged.
4. On-brand, BookFunnel landing page to deliver your offer to your new subscribers.
Okay, let's talk pricing.
Prices for our Starter Audience-Builder Package are $479 for the initial setup, and $179 monthly. Prices do not include the cost of your MailChimp account or BookFunnel account, or any ad spend.
You'll want a PayPal account, a MailChimp account, a BookFunnel account, a Facebook page, a Facebook ad manager account, and a BookBub Partners account.
Concerned about costs spiraling out of control? Don't be. You call the shots with predetermined spending limits, and your approval is required for all spending limit changes.
We are sincere. We want your business. To prove it, we will waive the $479 setup fee, this once. Yes, we are offering you a $479 setup service, FREE.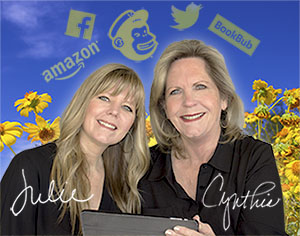 Starter Audience-Builder Package
$179.00 / month
That's right. To get started, we are offering a FREE setup service AND a FREE consultation session. Subject to review of your info, we'll set an appointment to get together for a free consultation session by phone.
Your contact info and initial payment will get the ball rolling.
We'll handle your request as a top priority.
$179.00 / monthAdd to cart
A couple caveats. In other words, the fine print: If, based on our review of the info you submit, we determine, in our sole discretion, we're not a good fit, we may rescind our free consultation offer. And In the event of such, we may choose to notify you by email. Regardless, we'll offer suggestions for alternatives.
Be assured we will NEVER commit to a new client relationship unless we believe we can help.